Injured Horse Experience
Near Magic Remedies, Pami










This is a pictorial diary of the healing of a severely wounded horse that was maliciously macheted.  Due to the graphic nature of the injury, we are starting with the healed horse picture first, then we are going backward in time until we reach the first day of treatment.
Feel free to stop at any point once you know just how effective the Ultimate Healing Oil is (and save yourself the trauma of seeing an injured horse!)
This healed horse picture is at the ninth week after initial use of the Ultimate Healing Oil The original stitch marks came together so perfectly, it looked as if the wound zipped itself shut.
During the course of treatment with the Ultimate Healing Oil, no additional treatment was required by the horse except Homeopathic support for trauma and a light covering of gauze to keep flies away.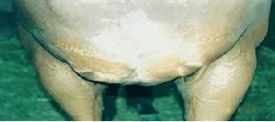 After 3 1/2 weeks of treatment with the Ultimate Healing Oil, there was a miraculously quick and nearly complete healing of the horse's potentially fatal wound, without ever requiring further medical treatment, including stitches.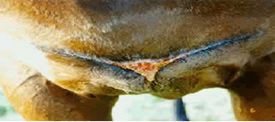 At this point, a full 6 weeks after the initial injury, and continued infection and deterioration of the wound, treatment began with the Ultimate Healing Oil.
Remarkable healing progress was clearly visible the next day.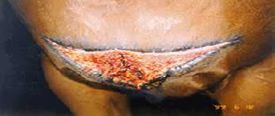 We were asked for the Ultimate Healing Oil to heal a severely injured horse.
The life of the horse was seriously threatened after his belly was deeply slashed with a machete from one side to the other.
A veterinarian was called after the injury occurred and he gave all the proper antibiotics and stitched the severe laceration, but unfortunately the stitches couldn't hold.
Worse, the wound couldn't be re-stitched due to the proud flesh seen at the edges of the wound.
Despite the continued use of antibiotics, calendula, and golden seal salve, there was no hope for the horse's recovery. That's when the Ultimate Healing Oil stepped in.